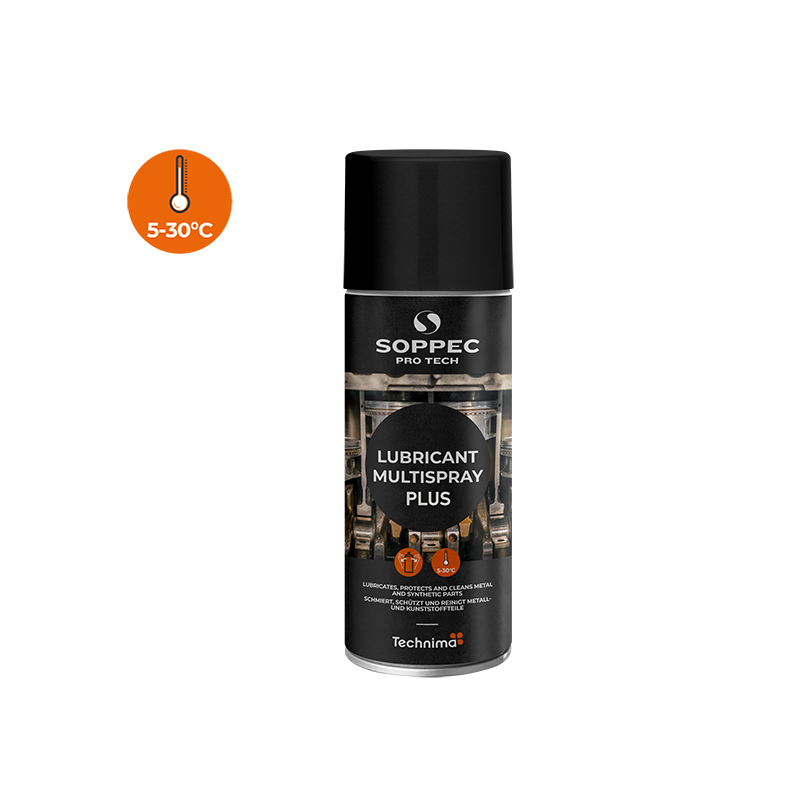  
Lubricant Multispray Plus
Lubricant Multispray Plus quickly removes corrosion, dirt and contaminants from oxidized metal components. Its low density allows the product to quickly penetrate and immediately loosen seized nuts, bolts, springs, locks and chains, etc. Essential for mechanical engineering shops, toolmakers, boatyards, auto repair shops and maintenance departments in the manufacturing industry.
See product's full description
Lubricant Multispray Plus
Specifications of the Lubricant Multispray Plus
Packaging: 200 ml
Composition: aromatic hydrocarbons, mineral oils, anti-corrosion and anti-humidity additives
Appearance: colourless, clear, slightly cloudy liquid
Propellant: propane-butane
Relative density (20°C g/ml): 0.70
Vapour pressure at 20°C: 3.2 bar
Instructions of use of the Spray lubricant
Hold the can upright and spray from a distance of 5–10 cm onto the target surface. Wait a few minutes and allow the solvent to penetrate deeply. Remove the seized components. If this does not have an immediate effect, repeat the procedure and allow the product to work longer. Use the spray straw supplied to access parts that are otherwise more difficult to reach.
Data sheet
Product Type

Technical product

Volume

200 ml

Brand

SOPPEC
Health and safety
CLP labelling with one pictogram.
DANGER
H222 Extremely flammable aerosol.
H229 Pressurised container: May burst if heated.
H336 May cause drowsiness or dizziness.
Safety Data Sheet