TECHNIMA NORDIC CATALOG
Discover our new 2022 catalog, gathering our MERCALIN and SOPPEC products ranges. 
MERCALIN MARKING SPRAY RANGE
Mercalin is the leading marking spray brand in Scandinavia whose experience enables the company to manufacture aerosols that meet the special requirements of the customers. The Mercalin paint is made using the best pigments to ensure high-quality surface marking for all professionals, and offer a range of different colors to meet all the requirements, including fluorescent markers.
The brand aims to develop products that both answer to the needs of its customers and respect the human and the environment, thanks to our Triple certification (ISO 9001, ISO 14001, OHSAS 18001). All the aerosols of marking paint have been equipped with a security cap and a 360° nozzle. This security cap has been revised in a more modern, stronger and glossy design, which allows professionals to open it using only one hand and prevents accidental release.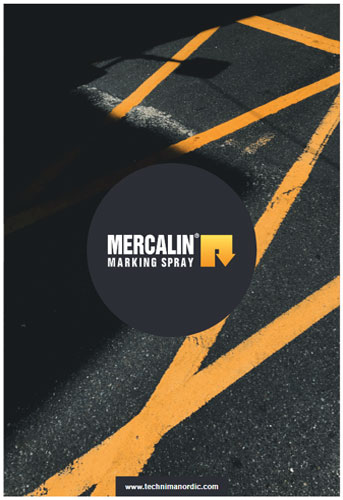 SOPPEC CONSTRUCTION CATALOG
Considered a benchmark in the building and public works industry for over 15 years, SOPPEC worksite paint markers were the first to be fitted with patented safety caps to guarantee flawless reliability for users. With seven different product ranges, SOPPEC is able to meet the needs of the building and public works industry and the diversity of marking applications encountered: short-term and temporary marking, fluorescent, non-fluorescent, more environmentally-friendly (with a formula containing over 25% water).
INFOS
Two purpose-designed safety caps are fitted to the construction and public works aerosol paint ranges :
The patented SOPPEC 1 "TP" cap, with a base made from recycled plastic, for aerosols used head down: FLUO TP®, PROMARKER®, S MARK, HYDRO TP and TEMPO.
A second specific cap 2 for IDEAL SPRAY® (multi-directional use).
The formulations for all aerosols comply with our triple certification rules.
Products can be used even under very low temperatures, thanks to our high pressure cans and specific propellant gas.
Soppec construction spray marking paints offer a wide range of fluorescent and non-fluorescent colors establishing the color codes for picket marking for the identification of underground networks.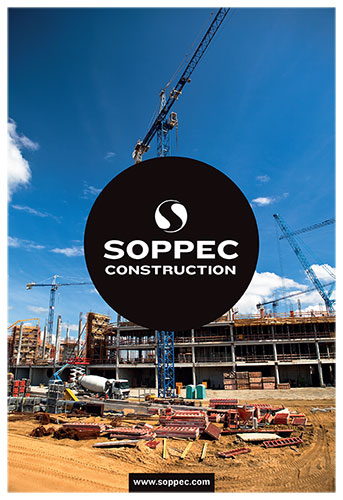 SOPPEC FOREST CATALOG
The forestry marking paints from the SOPPEC FOREST range respond to many uses, from forestry management to harvesting and the sawmill and timber processing sector.
The range is adapted to the needs of precision, visibility and durability :
fluorescent aerosol paints (FLUO MARKER)
non fluorescent aerosol paints (STRONG MARKER and STANDARD MARKER).


INFOS
All aerosols are formulated in accordance with the rules of our triple certification.
Products can be used down to very low temperatures, thanks to the high pressure (5 bars) cans and the specific propellant gas used.
All our forestry products are used head-up.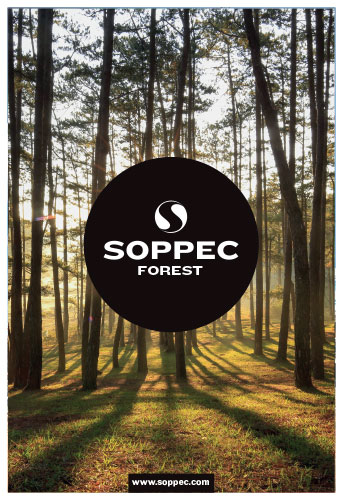 SOPPEC LINE CATALOG
Whether used to structure space, delimit an area or to optimise traffic flows, the domains where efficient and effective line marking is essential are both wide and varied.
These can range from factories and warehouses where they are needed to ensure current labour regulations are respected and to improve safety by reducing transport risks, to marking-out sports fields or private car parks.
The line marking paints designed by Soppec meet the multiple requirements of durable, high-performance marking. Whether the lines are to be marked indoors or out, the TRACING products by Soppec Line provide the solution for the vast majority of needs.
INFOS
• Use head down, adjust the position of the aerosol in the equipment used to give an application height that produces the desired line width.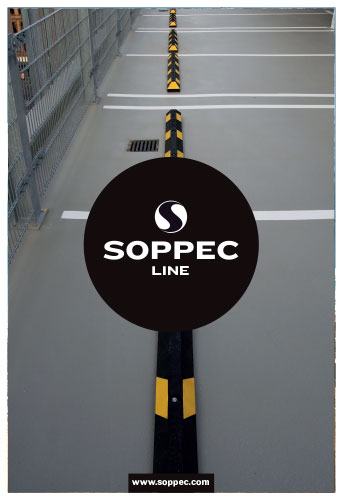 SOPPEC EVENT CATALOG
Whether for sporting or other events, outdoors or inside, during the day or at night, aerosol paints and varnishes offer the most effective and practical solution for marking out and signage, for indicating hazardous areas and for many other situations that require a rapid response.
The SOPPEC event range groups together all the products you need, including special effect paints (photoluminescent, retro-reflective, thermochromic) and marking paints.
INFOS
All aerosols are formulated in accordance with the rules of our triple certification.
Products can be used even under very low temperatures, thanks to our high pressure cans and specific propellant gas.
The Tempo Marker is fitted with the patented SOPPEC "TP" safety cap.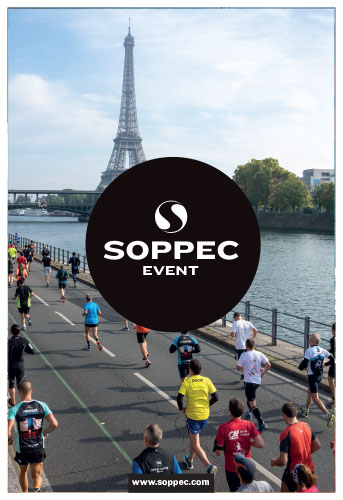 SOPPEC COLORS CATALOG
In all industrial or agricultural activities it is important to be able to carry out rapid repairs to damaged paintwork, (notably to machinery and equipment in the agricultural and public works sectors), making easy-to-use industrial aerosol paints an obvious choice to apply colour, or a protective or finishing coat.
SOPPEC Colors offers a wide range of products that meet the diverse needs of professionals working in the European manufacturing sector or the hire of agricultural and construction machinery.
In addition to their broad range of acrylic or alkyd resin-based RAL paints, SOPPEC Colors also offers a selection of industrial paints for the preparation or finishing of many very different surfaces: primers, galvanising paints, etc.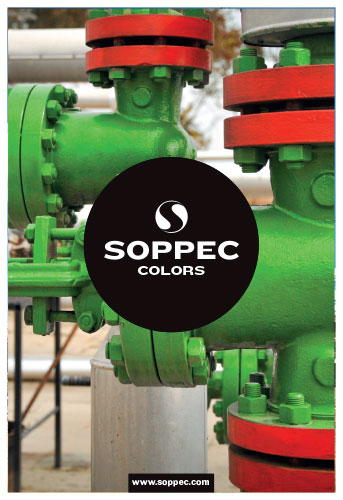 SOPPEC PRO TECH CATALOG
Easy-to-use high-performance products that clean, protect and lubricate are essential in a broad range of professional fields such as industrial manufacturing, servicing agricultural and construction equipment, and the maintenance and repair of parts, gears, machines and tools of all types.
Technical aerosol sprays provide a quick and effective solution for the application of grease, cleaners and lubricants.