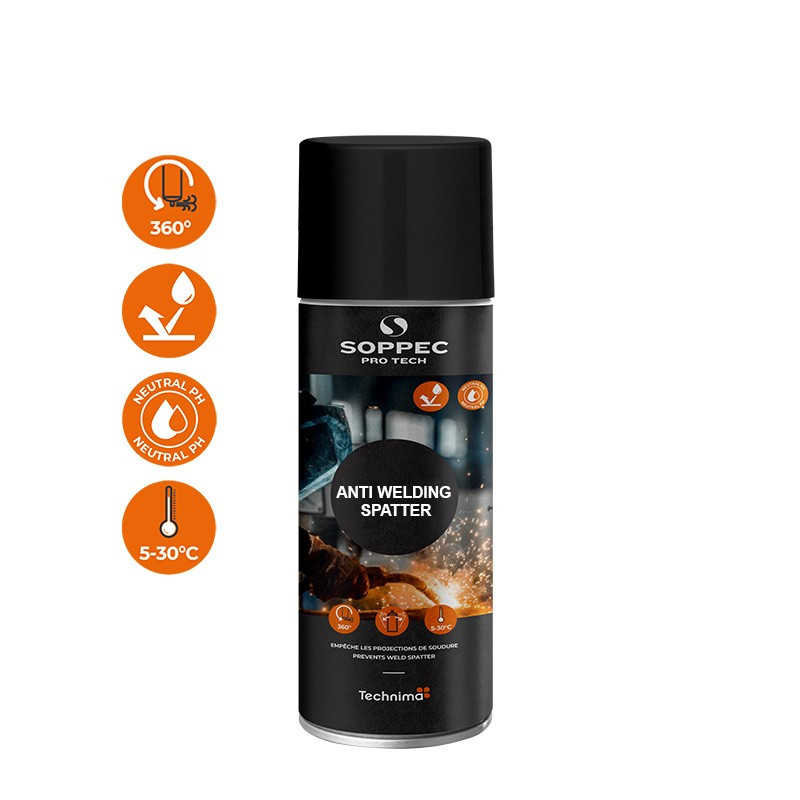  
Anti Welding Spatter
Our Anti spatter spray prevents welding spatter from adhering to welding nozzles and burns caused by metal particles in and around the weld area. Easy to use with a silicon-free formulation. Can be used for a wide range of welding techniques. The protection provided for welding nozzles will extend the working life of the welding gun.
See product's full description
Specifications of the Anti spatter spray 
Packaging: size 500ml (400ml net)
Composition: aqueous phase blend
Appearance: clear liquid Propellant: nitrogen
VOC-EU g/l: 0 g/l
Relative density (20°C g/ml): 1.013
Vapour pressure at 20°C: 6.5 bar
Spray flow: 1.6 g/sec
Data sheet
Product Type

Technical product

Volume

400 ml

Packaging

12 per box

Brand

SOPPEC
Instructions of use of the Anti spatter spray
Shake thoroughly before use. Spray those parts requiring protection (welding gun and adjacent areas) and carry out the necessary welding work. Remove any welding spatter using a wire brush. If necessary, remove with water or a damp cloth.